Instructions for downloading and installing Microsoft Office from Isothermal student email
All students with an Isothermal student email have access to Microsoft Office as a free download. Microsoft Office can be downloaded and installed on Windows PC or a Mac computer. The free download includes the following products from the Microsoft Office Suite: Word, PowerPoint, and Excel. Please note: Access is NOT included in the free download.
Steps to download and install:
Login to your student email. If you need assistance logging into your email, contact the Help Desk at 828.395.1437 or visit them on campus.
After logging into Outlook you are at the Outlook Portal Landing page.
In the top-right corner of the page you will see the Install Office 2016 button (see image below). Click the Install Office 2016 button. 

A dialog box displays and asks you to save the file (see image below). Click the Save File button.
Another dialog box displays to name the file. Click the Save button.
After the download is completed, you need to Run the downloaded file.
If your computer does not automatically display the Run dialog box you need to locate the file.
In this example, the Run dialog box does NOT automatically display and I am using the Firefox browser.
In the top-right hand corner of the Firefox browser, locate the downward pointing arrow (this shows downloaded files).
Click the arrow one time and the downloaded files are displayed (see image below).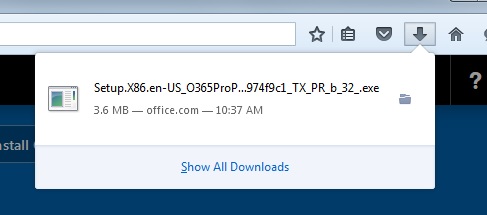 The file at the top of the list is the most recently downloaded file.
Click this file to display the Run dialog box (see image below).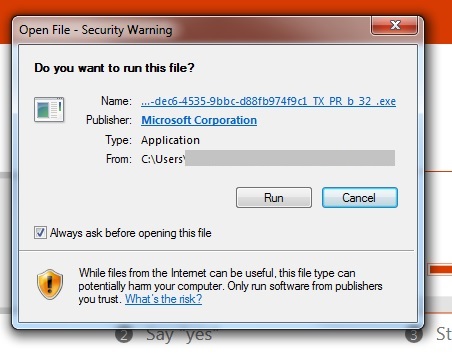 From the Run dialog box, click the Run button and click Yes to start installing Microsoft Office.
You need to stay online and connected to the Internet while downloading Microsoft Office. Disconnecting during the install may cause the installation to not execute correctly.
Once Microsoft Office installation is finished, you can now use the Microsoft Office products.